With functional extras, multiple pockets and stylish details, this backpack diaper bag offers the convenience of hands-free parenting on the go.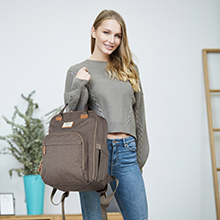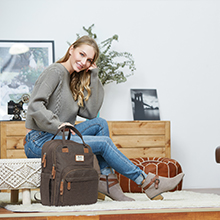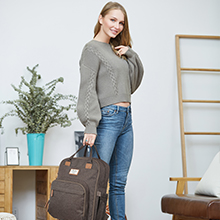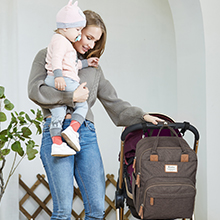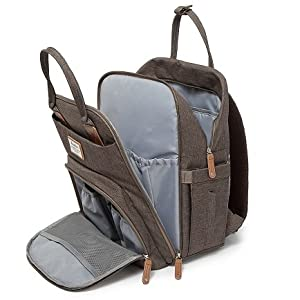 By anticipating all your baby's needs and smartly organize all the essential items for instantbaby care, our amazing baby diaper backpack offers 18 spacious pockets for every need.
1 x Zipper secured main pocket (keep stuffs in an ultra organized way)

1 x Diaper organizer pockets (quickly grab a diaper or wipes out)
1 x Mommy pocket (conveniently located for your valuables)
1 x Backside pocket (for quick & safe access to small items)
2 x Insulated bottle pocket (keep milk or juice cold)
2 x Elasticized side pocket (for baby tissues/ bottle)
10 x Interior compartments (includes a padded laptop pocket)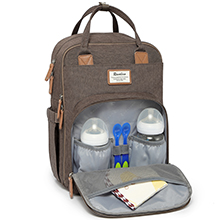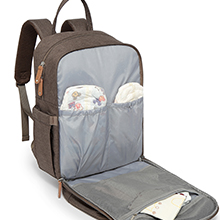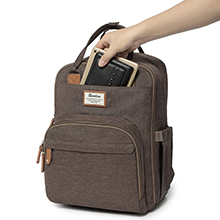 Insulated Pockets Diaper Organizer Mommy Pocket Backside Pocket
Keep baby bottles warm/ cold in the Front compartment holds baby Conveniently located for your Zippered pocket on back panel for quick
insulated pockets (Fit Avent bottle essentials with plenty of room for more. belongings, like wallet, phone, or keys reach, easy & safe access to your small
11oz/ 8.5x7 inch ), great for heading Works great for diapers and wipes instead of having to go into the diaper items, as well as your mobile, etc.
out with baby for a long day! organization! bag to get stuff.