Portable Changing Pad, RUVALINO Multifunctional Diaper Pad, Convenient Travel Changing Mat with Clip Strap for Baby Boys and Girls - Black & White
Cute and Convenient: An all-inclusive changing pad to make changes in public easier. A portable kit that holds everything moms and dads need to keep their baby clean, dry and happy! Drop it in any bag, strap it to your wrist or clip it to your stroller and you're good to go!

Safe & Waterproof Fabric: The changing mat is made of friendly materials and good quality of stitching that are safe up against the baby's skin, it has passed CPC certification. Due to the interior lining is equipped with waterproof polyester fabric, this changing pad is easy to keep clean and free of harmful bacteria.

Make Any Bag a Diaper Bag - The diaper pad doubles as a diaper bag. When you folded the travel mat station are the size of a handbag but become a large and easy-to-use changing pad in seconds. With a large mesh pocket and 3 zipper pockets that can store diapers, wipes, and other small necessities in the pockets. Simply grab and go.

Designed for Practicality: Traveling with a newborn baby can be fun and sweet. But it can also be messy and anxious about changing diapers outside. With RUVALINO portable baby changing pad, you don't have to worry about the germs in the public anymore. Not to mention, the portable diaper pad to ensure your baby's bottom doesn't soil their surroundings.

Better Baby Shower Gift - Are you still looking for a suitable and thoughtful gift for your new parent friends? This baby changing pad clutch will be absolutely an ideal one for your choice! Get this changing mat for your friend's baby shower or to congratulate her on the baby's birth.
RUVALINO portable baby changing pad keeps the baby safe, it is important for every parent.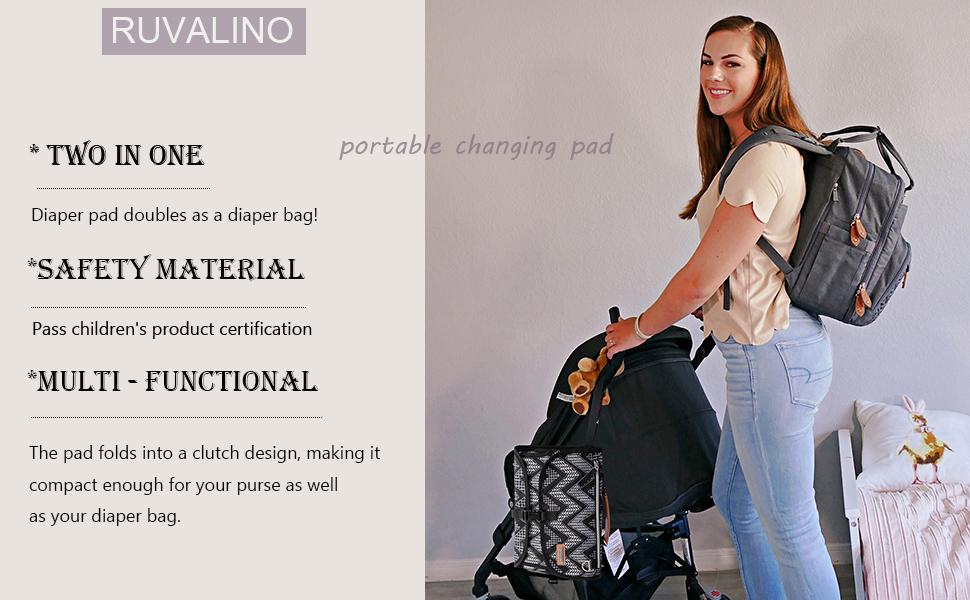 Big Helpers for Mom and Dad
You need a waterproof diaper change, It not only will easily fold up, but also protect your baby from dirty surfaces. A changing pad with a trolley strap can save us a lot of effort. After being folded is a stylish bag, opened is a practical diaper pad, both of which are designed for mothers.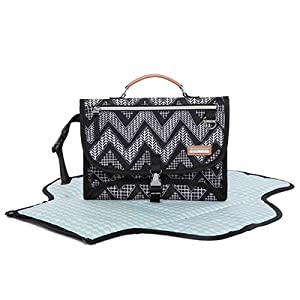 RUVALINO Portable Changing Pad
Changing baby diapers on the go is easier and cleaner than ever!
When you're with your little one, you need a baby diaper changing pad to help make it easier to clean him up after an accident. It's good to put on different surfaces to make changing their diaper more convenient. Also, it gives the baby something to lay on that's sanitary so you can focus on keeping everything clean. Not to mention, they're RUVALINO travel pads that are lightweight and convenient for emergency situations.
Warm Tip:
The portable changing pad's storage part can be dried in the dryer, but the changing pad only can be washed by hand or wiped clean then hung out to dry.
Removable Changing Pad

Two products in one-changing pad zip off of clutch for independent use, so convenient whether you're on the go or don't feel like running upstairs to the changing table.

Large Mesh Pocket

The travel changing pad doubles as a diaper bag with a large mesh pocket that can hold your diapers plus other creams and essentials.

Built-in Foam Pillow

The built-in pillow is a great cushion for the child's head, and the washable fabric won't have you worried about stains and messes.

Waterproof Materials

Not only do you want to make sure the pad is constructed using non-toxic materials that are safe up against the baby's skin, but you'll also want to make sure the pad is waterproof.
Give the Gift of Helpfulness
Quick-access pockets for one-hand operation, RUVALINO portable changing mat can be folded buckle design, let mom's life can be fashionable. A very useful product for new parents that help them to stay organized and ready! Get this changing mat for your friend's baby shower or to congratulate her on the baby's birth.
What You'll Get
Buckle strap on the surface

Front & rear zipper pockets

With a built-in foam pillow

Adjustable baby stroller strap

Fold up size: 12 inches * 9 inches

Changing pad size: 23inches * 21inches

Large Mesh pocket & Inner zipper pocket